Mobile Solar Irrigation System
Mobile Solar Irrigation System
GVS is a mobile solar irrigation system capable of generating energy required for its operation. The GVS  artificial intelligence software allows to control the operation in a comprehensive and autonomous way through Big Data with field measurement sensors. It is designed for extensive and intensive agricultural operations, using pivot and drip irrigation systems
The elements that make up GVS are:
Monocrystalline solar photovoltaic panels.

Siemens electronic control and management technology.

Folding and storage system in a 20-foot container.
Mobile solar irrigation system
The GVS system is capable of producing the energy required to irrigate large areas at constant flow and pressure in modules of 80 hectares. It can be adapted to work with Pivot type sprinkler irrigation systems or drip irrigation, from the pumping of ground or surface water using solar energy.
The GVS transforms sunlight into clean energy needed to run pumps and irrigation equipment over large areas.
It offers two modes of work, in isolation (100% Off-Grid) or in a coordinated cluster of interconnected GVS (micro-grid). This feature allows a synergy between the equipment to significantly increase the irrigation capacity and making the system more efficient.
One of its great benefits is that it does not need to be connected to an electrical network or diesel power generation systems, although  it has the ability to interact with public power grid generator sets or equivalent power generation systems if it is decided to use them as backup source. GVS enables directing the consumption from the preferred energy sources according to the parameters loaded by the user, prioritizing the use of solar energy to optimize costs.
GVS allows a more efficient use of natural resources and a reduction in costs.
GVS artificial intelligence software allows to control operations in a comprehensive and autonomous way through Big Data with field measurement sensors. GVS collects, analyzes and generates information that enables making efficient energy and agronomic decisions based on hyper-local data.
The data collection is sourced by two elements: the system electronics which reports and stores data, and also the agronomic data from the irrigated that is collected by integrated complementary devices.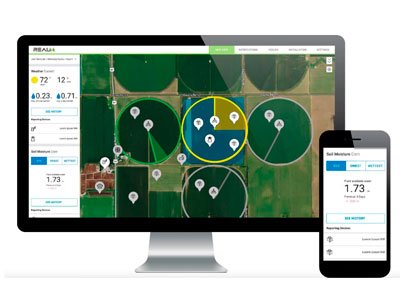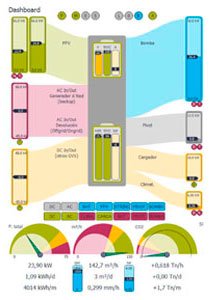 GVS offers growers the possibility of investing in a positive transformation for the world, providing a product that changes the irrigation paradigm.
GVS is based on economic sustainability by reducing production costs, allowing the grower not only to obtain an economic benefit, but also to reduce the carbon footprint, the use of water and improve the environmental production management.
GVS generates a paradigm shift in current irrigation systems, providing the crop with the water it needs when it needed, based on information and not human perception.
The objective is to keep the soil at field capacity throughout the crop, avoiding last minute irrigations that are not very effective and efficient.
GVS allows expanding the production frontier, making production viable by reducing costs in marginal areas and making the use of resources more efficient.
Irrigate using 100% solar energy at constant flow and pressure in large areas.

Maintain the soil at field capacity throughout the crop production in an economically viable manner.

Irrigate directly using groundwater without the need of water storage.

To be a mobile solar generation system that can move with the irrigation equipment.
Be a solar plant with a resale value at any time of its lifespan because it can be relocated in less than 30 minutos incurring only in a transportation cost.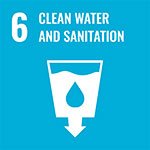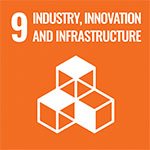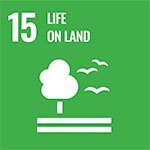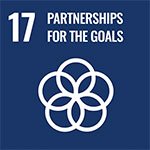 Sustainable
It enables an efficient use of water, energy and economical resources.

Data-Driven Intelligence
It provides real-time monitoring (of equipment and agronomic conditions).

100% Móvil
It is easy to move, install and manipulate.

Flexible
It adapts to pivot systems of any brand and model.

Operation Safety
High standards of active and passive personal safety.

Integrated
A single product integrates to different subsystems (data collection, irrigation management and energy self-supply).

Large Areas Management Adaptability
GVS can work as stand-alone  (100% Off-Grid) or in a coordinated cluster of interconnected GVS (micro-grid).

2 Operation Modes
Automatic-remote or manual-local. 

Efficient
It is designed to replace diesel systems with solar power. It also has the ability to interact with public power grids, generator sets or equivalent power generation systems.

Versatile
It works with vertical axis pumps, surface pumps or submersible electric pumps.

Autonomous
It autonomously manages the generation, storage and usage of energy, making decisions on each of these stages. 

Storage
It allows to maintain irrigation without interruptions caused by cloudiness and at the same time to extend the irrigation period up to 24 hours a day, if required. 
Technical Support and Warranty.
GVS: A new irrigation paradigm.
Expand your productive frontiers, exceed yields and reduce costs in an efficient and sustainable way. Our mobile solar irrigation system generates the energy necessary for sustainable irrigation, combining: Data Intelligence & Big Data; Remote Monitoring; Versatility and autonomy. Plus, it's 100% mobile – easy to move, install, and handle. Find out why choose us on this video. 
Pivot or drip irrigation system.
Irrigation capacity area: 80 hectares (200 acres) for each GVS (expandable with GVS clusters).

Maximum Pump Power: 60 HP / 44.7 kW.
Required Installation Area: 120m x 10m / 400ft x 32ft
Mobile: all equipment is folded in a standard 20ft ocean container.
Technology: Siemens imported from Germany.
Installed Solar Capacity: 76.05 kW, with a production guarantee of at least 80% in the year 20.
Maximum Pivot Power: 15 HP / 10 kW.
Battery Capacity: 25kWh @ 512 Vdc. 
Weight: 15,800 Kg / 34,800 Pounds.
It meets International Standards for photovoltaic panels, including hail resistance.


Monitored Alarm System and IP security cameras by 4G connection.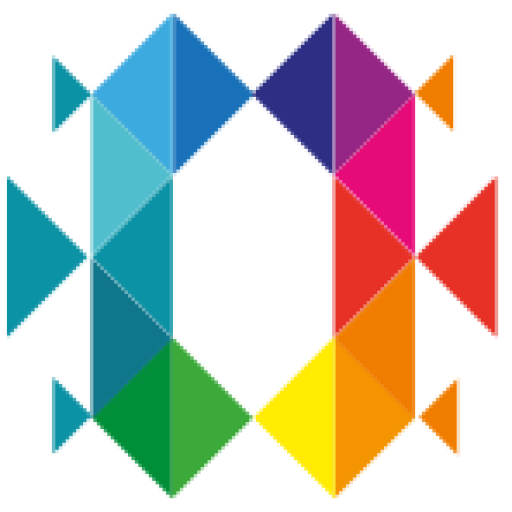 GVS is Green Valley Solar, a company dedicated to the generation of innovative products in the interaction between renewable energy and agricultural production. GVS seeks sustainable development through innovation in the efficient use of resources.